Compressor Replacement Cryogen Circuit Test/Testing Equipment


The compressor refrigeration circuit tested by Guangzhou Xinhe is in accordance with the standard requirements
in the appendix GB4706.17. Mainly used for continuous overload test of motor-compressor.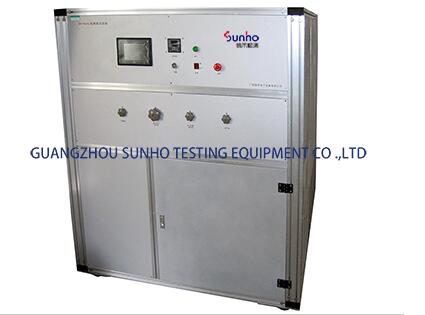 Technical Parameters:
1. Power supply: three-phase five-wire AC 380V, 50Hz, power 50kW.
2. Test range: 2HP ~ 5HP single phase, 3HP ~ 10HP three-phase compressor.
3. Test items: compressor continuous overload test and final disconnection test.
4. Compressor continuous accelerated life and start-stop durability test.
5.Working medium: R22, R407C, R410A, R134a,R502 and other refrigerators and air conditioners commonly used working fluids (excluding explosive working fluids).
6. Work station: single station.
7. Test parameters: compressor voltage / current, suction / exhaust pressure, suction temperature and ambient temperature.
8. Working condition control range: suction pressure: 0.1 ~ 3.0MPa, manual adjustment.
9. Exhaust pressure: 0.5 ~ 5.0MPa, automatic adjustment.
10. Inspiratory temperature: 0 ~ 43 "C automatically adjusted.
11. Compressor ambient temperature: 30 ~ 50 ° C, automatic adjustment.
12. Voltage range: single phase: 150 ~ 250V, three phase: 320 ~ 430V.
13. Timing range: The start time can be set arbitrarily within 0 ~ 9999h; the start and stop time can be set automatically.
14. Cycle times: 1-99999 times can be set.
15. Test bench protection parameters: total power leakage, exhaust overpressure, and high case temperature.
16. Cooling method: fan cooling.