High Precision Reliable Refrigeration Compressor Characteristic Test Device
Compressor characteristic test equipment tested by Guangzhou Sunho measures specific parameters of refrigeration compressors: start-up voltage, current, stop voltage, charging voltage and current, pressure loss, and return oil quantity.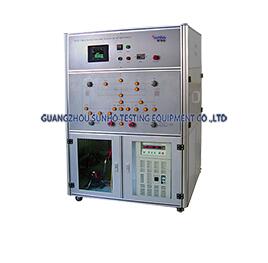 Technical Parameters:
1. Power supply: 0 ~ 250V / 0.5KVA.
2. Working medium: R134A, R600, etc.
Test items:
1. Stop voltage test: under the standard inlet and exhaust pressure, continuously reduce the compressor operating voltage,Until the test sample stops, measure the voltage parameters at this time. Adjustment test voltage range: 50 ~ 250V ± 0.5V.
2.Starting voltage test: 80% of the rated voltage of the test product is the starting voltage.The voltage value in the stop state is continuously reduced according to the regulations until the test sample cannot be started.
3.Starting voltage range: 50 ~ 250V + 0.5V
4. Charging voltage and current test: Test the voltage and current value in this state under specific conditions.
5. Test range: voltage 50 ~ 250 ± 0.5V, current 0.5 ~ 5A
6. Pressure loss: In the set time, when the machine is stopped and the exhaust pipe at the exhaust end is closed at the same time (to prevent external leakage), the pressure of the high-pressure chamber leaking through the compressor cylinder piston to the low-pressure chamber decreases.
7. Exhaust pressure: 1.3 ~ 1.8 soil 0.5 MPa.
8. Airtight pressure: 0 ~ 2.0 ± 0.1 MPa.
9. Fuel Consumption: The amount of oil taken out from the compressor, and the amount of oil returned per unit time is calculated.The difference between weighing the sampler before and after the test. Range: 0. 1 ~ 3000 Precision: ± 0.01g.
10. Timing range: The boot time can be set arbitrarily within 0 ~ 999h; it can automatically set the start and stop time and the number of cycles.