Electronic Digital Displays Tester Capacitors Destruction Test/Testing Machine
Brief introduction:
1) Use for: destruction test on capacitors of 1~100μF capacity, and rated voltage not exceed 500V with 50Hz frequency, including DC output and AC output.
2) Apply range: According to the standard VDE, IEC60252 "AC motor capacitor" standard test requirements of the design and manufacture, equipment that can do S1, S2 standards also meet the S3 standard.
3) Test Method: Adjust C to C = 10Cx; Adjust Udc to provide 10Unx maximum voltage (MAX: 5000V) and provide 50mA continuous short-circuit current; adjust Tr to make I1 = 1.3Inx and V2 = 1.3Unx MAX: 1000V). Apply a DC voltage of 10Unx to Cx at a boost rate of 200V / min. After reaching 10Unx, maintain the voltage (this time is adjustable). ?To the capacitance failure that the capacitor current is less than (0.8 ~ 1.0%) * I1 or reach 10Un, the capacitor failure voltage or reach 10Un, holding pressure 0 ~ 99min (this time can be adjusted).
4) the use of the environment
Temperature: 10 ~ 30 oC; Relative temperature: ≤ 80%; No obvious vibration and corrosive gas place.
5) design features:
test cabinet with high-grade anti-static spray standard cabinets, the color is white Display and control: 10-inch color touch screen + Omron PLC intelligent controller, friendly interface.All the test parameters of AC and DC voltage, current, test time are displayed directly on the touch screen. ?With simple operation, ive display, easy adjustment and so onBoost speed can be automatic, manual boost two modes to choose Protect function: protection function: load short circuit, overload protection measures;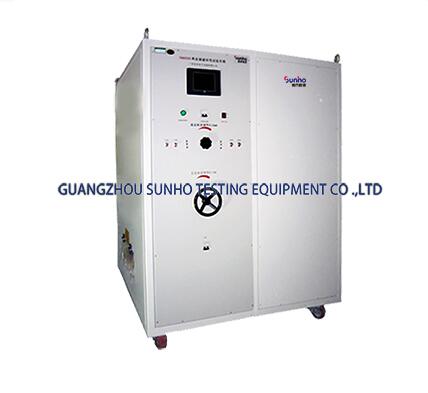 Technical parameters:
1. Power supply: AC 380V ± 10% 50Hz.
2. Test range: 0-100 μ F.
3. DC:
(1)Test voltage: 500-7500v adjustable, accuracy: ± 3%.
(2)Sustainable short circuit current: more than 50mA, adjustable.
(3)Two steps of boosting speed: 200V / min ± 10%, 1000V / min ± 10%.
(4)Test time: 0-999min.
4. Communication:
(1)The instantaneous short circuit current is greater than 300A.
(2)Test voltage: 70-1000v adjustable, accuracy: ± 1.5%.
(3)Test current: 1-30a adjustable.
5. Display mode: digital display.
6. The equipment shall be equipped with timing and test time setting functions.
7. Station: one.
8. Equipped with explosion-pro of test box.